Bob teams up with Thunder Agents and Unicef
It was a honor and privilege to be part of the THUNDER AGENTS panel and Launch Party at the United Nations on Saturday, October 5th in NYC. During The Thunder Agents panel at New York Comic Con '15, after highly-entertaining taped messages from the U.N. General Secretary and Stan Lee, I dubbed Michael Uslan: "The Ambassador of Comic Book Culture to the World." One only needs to watch this video of Michael speaking at the UN launch party to understand what I mean:
Apparently, it is stylish in China to go sockless with your business suit. In fashion solidarity with my Chinese friends from the Huayi Brothers team, I lost my business socks to fit in with James Wang and crew. Many thanks to my life-long friend Michael Uslan, to the gracious and stylish James Wang from the Huayi Brothers from China and to Agnes Lee and the folks at CEA Group for making these two fabulous events happen.
Related: Comic Book Resources
Official press release on the project: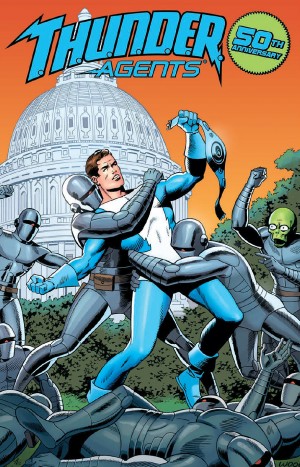 NEW YORK, NY – October 5, 2015 – T.H.U.N.D.E.R. Agents, the landmark comic featuring the first truly international super hero group, celebrates its 50th Anniversary with a series of special announcements and groundbreaking news from respected Batman franchise Executive Producer Michael Uslan, Huayi Brothers Media Corporation, CEA Group, IDW, UNICEF and the United Nations during a Saturday, October 10 panel at New York Comic Con.
After 50 years of protecting the globe, The Higher United Nations Defense Enforcement Reserves (aka T.H.U.N.D.E.R.) Agents still stands as the first and only truly international comic book super hero group set up to work for the United Nations. Brought to life in 1965 by comic book legend Wally Wood, T.H.U.N.D.E.R. Agentshas been blessed throughout its first half-century with some of the finest artists in the industry, including Steve Ditko, Gil Kane, Mike Sekowsky and Dave Cockrum.
T.H.U.N.D.E.R. Agents'message of global peace, teamwork and unity has even greater significance in today's international climate.
Panelists for the T.H.U.N.D.E.R. Agents celebration – which will be held in Room 1A24 of the Javits Center from 1:45-2:45pm – include Michael Uslan and fellow producer David Uslan; Olav Kjørven, Director of Public Partnerships, UNICEF; Maher Nasser, Director of the Outreach Division, United Nations; Sean Southey, CEO, PCI Media Impact; IDW President Greg Goldstein; renowned comic artist Bob Layton; screenwriters Ben Lustig & Jake Thornton; and surprise appearances by notable luminaries from the realms of comics and world relations.
The panel will spotlight the history of T.H.U.N.D.E.R. Agents, and some exciting special announcements regarding the ever-expanding future of the franchise. In addition, the panelists will unveil new details of the benevolent United Nations/UNICEF initiative, "Comics Uniting Nations," a partnership with non-profit organization Reading With Pictures to develop comics that illustrate the Sustainable Development Goals of the United Nations, and includes IDW Publishing's participation throughout the world.