'Captain America: Civil War' Premiere Coverage
by Bob Layton
The world premiere of Marvel's 'Captain America: Civil War' was held at The Dolby Theater on April 12, 2016 in Hollywood, California. 

When I received my official invite letter to the premiere, I was conflicted because they asked all guests to choose your team by attire! They wanted me to wear RED to stand with Team Iron Man or wear BLUE to stand with Team Cap, Obviously I'm going to lean towards Shellhead but my beloved Ant-Man is on Team Cap. What to do? Obviously, I had a sartorial crisis! You'll see how I resolved it in this Marvel.com video interview.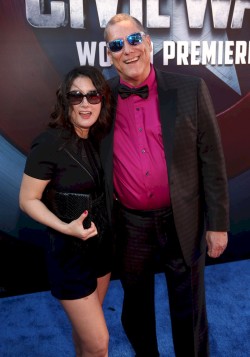 My "Plus One" for the "Captain America: Civil War" premiere was the talented screenwriter and director, Christine Yoo. Chris is a dear friend, great talent, and unapologetic pop culture geek. I urge you all to check out her hilarious and charming romantic comedy "Wedding Palace", available on iTunes.
The crowds lining the red carpet at the Captain America Civil War Premiere were fantastic! Chris and I worked the long line for about a half hour, signing autographs and taking snapshots with people who had been waiting for very long hours.
It was an amazing event! Chris and I had a blast!
While on the red carpet we met: Ant-Man's Paul Rudd, Daredevil's Eldon Henson (Foggy Nelson) — such a nice person! — as well as Big Mike Colter (Luke Cage from Jessica Jones), who was simply amazing with a phenomenal knowledge and love for the character he plays. We also met War Machine Don Cheadle, and I finally got a chance to hang with @Midnight's Chris Hardwick.
My sincere thanks to our PR handler from Disney, Chris Kidder, and to my friend, Marvel Studios Executive Producer Jeremy Latcham, for making it all possible.
And a special shout out to my personal Clothier, David Parsow for the bitchin' Ant-Man tuxedo!